http://img39.imageshack.us/img39/586/eirifull439977psavvielr.jpg
Meredith Cosgrove
Axiom Information
Title

Jedi Padawan

Biographical information
Current Residence

Vornu

Homeworld

Carida

Born

16 Years BBD

Physical description
Species

Human (1/4 Zeltron)

Gender

Female

Height

164cm

Hair color

Light blonde

Eye color

Grey

Skin color

Pale

Family information
Mother

Kalyani Cosgrove

Father

Rohan Cosgrove

Sister
Chronological and political information
Era(s)

The Old Republic

Affiliation

Jedi Order

Known masters
Meredith Cosgrove, nicknamed Merry, was a Jedi padawan in the Old Republic era.
Appearance
Edit
Cosgrove had waist-length, very light hair and slate grey eyes. She was of average height and build.
She wore thick-rimmed glasses most of the time while not in combat.
Personality
Edit
Headstrong and spirited, Cosgrove would never let anyone go without her telling them exactly what she thought of them and was never afraid of giving anyone a piece of her mind if warranted. She had strong focus. She was friendly and had a forgiving nature, eventually.
Even though she was quarter Zeltron, Cosgrove was a humanist and held a deep prejudice against all alien races. She would never tell anyone that she was part-Zeltron thanks to her estranged grandmother.
Biography
Edit
Family History
Edit
Ruby Barah was a Zeltron woman who worked as an escort, hailing from Zeltros.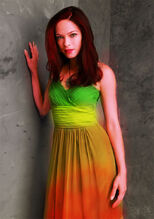 Midori Cosgrove travelled there as a joke with his mates and hired Ruby. He soon became a regular client and they fell in love for a time.
After she gave birth to their child, he took the little boy to raise as his own, away from the "sick Zeltron prostitute" on his homeworld, Carida. He married a human and tried to hide the fact that his son was anything but. The child had inherited his genes predominantly and his appearance could be passed off as human. 
Rohan Cosgrove grew to become a man of minor influence and married another human, Kalyani, and they had two children together: Rosemary, and Meredith, who was eleven years her sister's junior. 
Early Life
Edit
Work in progress.
Training and Skills
Edit
Battle Skills
Edit
Lightsaber
Edit
Cosgrove was trained in Shii-Cho to a suitable level. Her style also included aspects of Makashi.
(current as of 12-6-13)