Sev'niay'nuruodo
Biographical Information
Current Residence

""

Place of Birth

Vendaxa

Date of Birth

Unknown

Physical Description
Species

Chiss

Gender

Female

Height

6'1"

Weight

171 lbs__N

Hair Color

Ebony

Eye Color

Blood Diamond

Skin Color

Azure

Chronological and Political Information
Era(s)

I.E

Affiliation

Red Krayt Dragon Gang

Position

Pirate Captain
Biography
Edit
Childhood
Edit
Sev'niay'nuruodo. Born upon the planet, Vendaxa, to a family who worked for one of the more prestigious families in town. House of Alyksond; both mom and dad worked as personal body guards for the family. Not a criminal or scandal occurred in the house. Their youngest Sev'niay'nuruondo (Sev'Nia was her abridged name), were a few years off making Sev'nia feel like an older sister, and was told by the girls parents to keep her safe no matter what. A child's mind could only comprehend so much, but it wasn't long before the two young girls became fast friends.
Adolescence
Edit
They would stomp about the mansion pretending and playing all sorts of games till Sev'nia finally was given a real job, as guardian to her fond friend. Finally understanding it and enjoying the paychecks that came in she continued their friendship, but now with a vigilant eye. Always ready and eager to serve. The chiss enjoyed her friendship, and bye the time she became a teenager she was confronted with the choice to head off and further her education or to stay around with the girl she thought of as a little sister. Despite the age difference being as small as it was.
Adulthood
Edit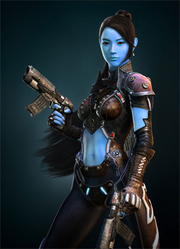 The chiss grew into a beautiful saphire jewel of a woman.
Relationships
Edit
Ad blocker interference detected!
Wikia is a free-to-use site that makes money from advertising. We have a modified experience for viewers using ad blockers

Wikia is not accessible if you've made further modifications. Remove the custom ad blocker rule(s) and the page will load as expected.